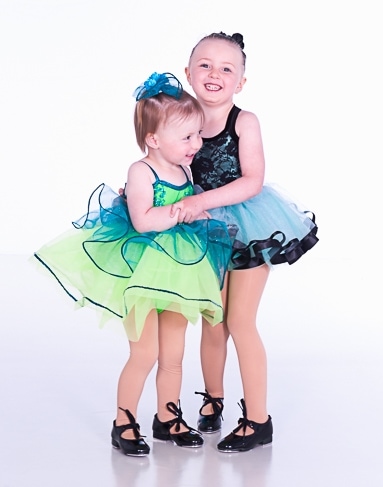 "I cannot say enough great things about Prestige Dance Studio! Miss Jess and her staff are so kind and caring towards all of their students. They truly help foster a LOVE for dance and performance, even with the tiniest dancers. It's so easy to see why this dance studio has become so popular with this community!"
-Katie Bussell, Prestige Dance Studio parent
We love helping our tiniest students from the very beginning! Prestige Dance Studio offers Baby and Me tumbling classes for children ages 6 – 36 months, independent dance classes from age 2 and up, and independent tumbling classes starting at age 3. What you can expect when you enroll in a class at Prestige Dance Studio:
Small class sizes. From the very beginning, we will get to know your child and start to build a lasting relationship.  We treat our students like family.
A special opportunity to bond with your child and other parents. Little ones love to move! Use class as a jumping point for activities to do with your child. Class time can also be a great opportunity to meet other parents in the Cedar Rapids community.
Improved coordination and rhythm. Most of the time our students are having so much fun they don't realize they are learning!
Lots of time for imaginative games and creative movement.
A wonderful beginning to their dance education. Your child will be learning from a professional and receive great information from day one.
Interested in becoming part of the Prestige Dance Studio family? Please contact the studio to learn more!