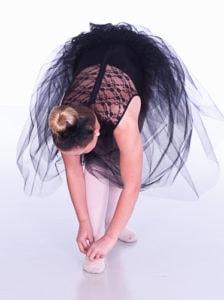 How do I register my child for a class?
Registration for new dancers and returning students can be completed via our parent portal online. 
How can I pay my tuition?
Monthly tuition is automatically withdrawn on the 1st of every month (August-May). You may opt out of automatic payments by submitting payment for the entire semester/year at the time of registration.
What should my dancer wear to class?
Our dress code ensures that students receive the best possible instruction, minimize injury, increase focus, and develop a strong sense of self-confidence and studio unity. All students should have hair secured in a neat bun (ponytails are permitted for our Tippy Toes and Hip Hop dancers). More information about our dress code can be found here.
Tippy Toes– leotard, tights, skirt (optional), pink ballet shoes, and black tap shoes
Ballet and Point– black leotard, pink transition tights, black spandex shorts, pink ballet and/or pointe shoes (Students must receive approval from Miss Erin before pointe shoes are permitted)
Lyrical- black leotard or bra top with black spandex shorts and half ballet shoes
Tap-black leotard or bra top with black spandex shorts and black tap shoes 
Leaps and Turns, Jazz, and Cheer- black leotard or bra top with black spandex shorts and tan jazz shoes
Hip Hop, Boys Hip Hop and Hippity Hop– black leotard or black PDS t-shirt, PDS sweatpants, and Silver Prestige issued high tops
Tumbling– black leotard, black bra top, or Prestige issued GK leotard, black spandex shorts, tan jazz toes
Male dancers– white t-shirt, black shorts
Where can I purchase dancewear?                                                                                                                        Everything your dancer needs for class can be purchased at the studio. We carry a large inventory of shoes, leotards, dancewear, and tights. Visit our boutique during studio office hours and we will make sure your dancer has everything they need for class. You can also purchase dancewear online through Curtain Call for Class (login credentials: studio name Prestige Dance Studio, studio passphrase prestige1) 
How long is a session?
We offer a ten-month session that follows the school year calendar, running from August-May. During the summer months, we offer camps, workshops, and punch-card classes.
What's the earliest age a dancer can start?
Our Tippy Toes class is an introductory dance class starting at 2 years old. We also offer a Baby and Me class for students as young as 6 months.
Are there any other expenses outside of tuition?
There is an annual registration fee, costume fee, and recital fee. More information on these fees can be found in our policy cheat sheet.
Can my dancer try out a class before enrolling?
Yes, we offer trial classes mid-June through November. Please contact us to arrange your class.
I missed fall registration in August, can I still enroll?
Yes,  we accept new dancers through October 31st.
Can I observe dance class each week?
Yes,  all of our studios have large viewing windows.
My dancer is older and has no dance experience, are there classes for him/her?
We have classes for students of all ages and ability levels. Please contact us so we can help identify where the best place to start is.
Do you offer classes for boys or adults?
Boys are welcome to enroll in any of our dance classes, we also offer a boys only hip hop class. For adults, we offer adult hip hop and adult ballet. Dance is a great way to learn musicality, coordination, balance and social skills at any age.