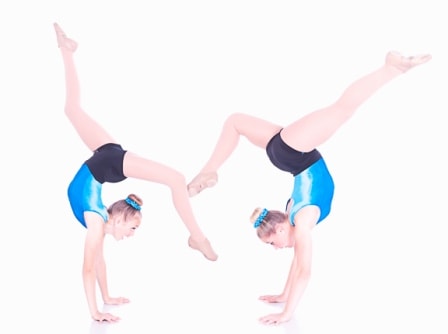 Below you will find descriptions of all the dance classes provided by Prestige Dance Studio. We offer baby and me classes, ballet, tap, jazz, hip hop, lyrical, cheer, and tumbling classes to families in the Cedar Rapids area. Unsure where to start? We offer new students to Prestige Dance Studio a trial class mid-June through November. We take pride in creating a welcoming environment and our caring staff goes above and beyond to help new students feel welcome. We'd love to have you as part of the Prestige Dance Family!
Baby and Me: This parent and tot class is the perfect introduction to dance and tumbling for students 6 months- 36 months. Parents will help their dancer to gain confidence, use their imagination, and gain coordination. A great opportunity to bond with your baby and meet other families!
Tippy Toes: Tippy Toes 1-4 is our progressive combined ballet and tap technique class for the 6 and under age range. Classes are separated by age and focus on introducing and building coordination, strength and motor skills without the accompaniment of a parent. Students will build a foundation for continued ballet and tap instruction while interacting with other dancers their age in a focused environment.
Teenie Tumble: Introductory tumbling skills are taught in this class to young dancers ages 3-6. This class focuses on the coordination and strength used when tumbling.
Hippity Hop: This 30 minute class is an upbeat introduction to hip hop for our 4-6 year olds. This high energy class will focus on coordination, strength and learning combinations to current and age-appropriate music. Hippity Hop will encourage students to step outside of the box by bringing their own individual style and personality to the movements.
Ballet: Ballet is the foundation of all technique. Here we will will focus on increasing flexibility, strength, and musicality with the repetition of steps at the ballet barre and in the center.
Jazz: Strong and energetic jazz technique is the focus in this discipline. Dancers will master turns and leaps as well as a show-stopping stage presence. All dancers enrolled in jazz must also be enrolled in ballet.
Lyrical: Lyrical is a fusion of ballet and jazz and is considered an expressive and interpretive style of dance. Prestige Dance Studio embraces the foundations of lyrical dance while constantly pushing to evolve with, not behind, the contemporary dance scene. All dancers enrolled in lyrical must also be enrolled in ballet.
Leaps & Turns: This is a non-performing, supplemental class to jazz technique for dancers ages 8 and up. It provides dancers an additional opportunity to focus on turns, leaps, and acro tricks.
Tap: Our tap program is a combination of Rhythm and Broadway tap styles. Dancers will focus on both the musicality of their feet in combination with the floor as well as highly entertaining stage presence.
Hip Hop: This is a fun, energetic class that focuses on coordination, strength and progression from basic combinations to intricate choreography.
All Boys Hip Hop: A class designed for young male dancers with a passion for moving. Dancers will be introduced to the many styles of Hip Hop while learning the responsibility and dedication the sport requires.
Cheer: Offers a high energy introduction to the upbeat atmosphere of cheerleading.
Tumbling: Providing basic tumbling technique, students will learn tumbling skills and further their tumbling foundation. Dancers will learn skills used in competitive dancing while maintaining a strong emphasis on form.
Adult Hip Hop: This class is for dancers 18 years and older. With a focus on cardio, this upbeat class will keep you sweating while learning fresh combinations to current music.
Adult Ballet: Our Adult Ballet class is designed to challenge a dancer of any adult age, with or without past experience. This 60 minute class consists of barre work, stretching and conditioning, and ends with ballet/lyrical combinations that will decrease stress and connect you to your inner grace and beauty. Join us to start or rekindle your relationship with dance.