Located in Cedar Rapids, Prestige Dance Studio offers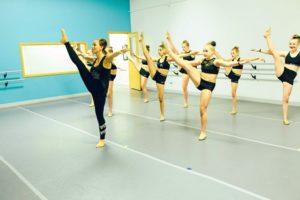 dance classes to students ages 12 months- adult. We offer baby and me classes, jazz, hip-hop, ballet, tap, lyrical, tumbling, and cheer. Need help deciding? Please read through our class descriptions and contact the studio to learn more. 
At Prestige Dance Studio we pride ourselves on our small class sizes, welcoming family atmosphere, and on providing our students with the best dance instruction in the area. We would LOVE to have you as part of the Prestige Dance Studio family. We recommend registering early as classes fill quickly. We look forward to dancing together soon!
Dance Class Schedule by Day 2017/2018
Monday
Studio A
4:45-5:30pm Tippy Toes 2
5:30-6:00pm Baby and Me
6:00-6:30pm Teenie Tumble
6:45-7:15pm Tumbling 1
Studio B
4:30-5:15pm Ballet Advanced 1
5:15-6:00pm Ballet Advanced 2 FULL
6:00-7:00pm Ballet Beginner 3
7:00-8:00pm Ballet Beginner/Advanced 4
8:00-8:45pm Tumbling 3 FULL
Studio C
5:15-6:00pm Jazz Advanced 1
6:00-6:45pm Jazz Advanced 2
7:00-8:00pm Jazz Beginner 3
8:00-9:00pm Jazz Beginner 4
Studio D
4:30-5:00pm Tap 2
5:00-5:30pm Tippy Toes 1
5:30-6:00pm Tap 3
6:00-6:30pm Tap 1
6:30-7:15pm Tippy Toes 3 FULL
7:15-8:15pm Adult Ballet
8:15-8:45pm Adult Tap
Tuesday
Studio A
4:30-5:15pm Hip Hop 1
5:15-6:00pm Hip Hop 2
6:00-6:30pm Hippity Hop FULL
6:30-7:00pm All Boys Hip Hop
7:00-7:45pm Hip Hop 3
7:45-8:15pm Pom (9 and up)
8:15-9:00pm Adult Hip Hop
Studio B
4:45-5:15pm Tumbling 2
5:15-5:45pm Tumbling 1 FULL
5:45-6:15pm Teenie Tumble FULL
6:15-7:00pm Tumbling 4
7:00-7:30pm All Boys Tumbling
7:45-8:30pm Leaps & Turns 2/3
8:30-9:00pm Silver Community FULL
Studio C
4:45-5:15pm Tiny Company Rehearsal FULL
5:45-6:30pm Mini Rehearsal FULL
6:30-7:00pm Mini Leaps & Turns FULL
7:00-8:00pm Lyrical 4 FULL
8:00-9:00pm Leaps & Turns 4
Studio D
5:00-5:45pm Tippy Toes 2 FULL
5:45-6:15pm Tippy Toes 1 FULL
6:15-7:15pm Tippy Toes 4
7:15-7:45pm Lyrical 2 FULL
Wednesday
Studio A
4:30-5:15pm Tippy Toes 3
5:15-6:00pm Tippy Toes 2 FULL
6:00-6:30pm Tippy Toes 1 FULL
6:30-7:30pm Tippy Toes 4
Studio B
4:30-5:00pm Teenie Tumble
5:30-6:00pm Teenie Tumble
6:00-6:45pm Tumbling 4
7:45-8:45pm Ballet 4 FULL
8:45-9:15pm Pre-Pointe 4
Studio C
5:45pm-6:45pm Leaps & Turns 4
6:45-7:45pm Jazz Advanced 4
Studio D
5:15-6:15pm Tippy Toes 4
6:15-7:00pm Tippy Toes 3 FULL
7:00-7:30pm Cheer 1/2 (5-8 years old)
Thursday
Studio A
10:00-10:30am Tippy Toes 1 FULL
10:30-11:15am Tippy Toes 2
4:30-5:00pm Teenie Tumble
5:00-5:30pm Tippy Toes 1
5:45-6:15pm Tumbling 2
6:30-7:00pm Tumbling 1
Studio B
4:45-5:30pm Ballet Beginner 1
5:30-6:30pm Ballet Advanced 3
6:45-7:15pm Pre-Pointe 3
7:15-8:00pm Ballet Beginner 2
Studio C
4:30-5:30pm Jazz Advanced 3
5:30-6:15pm Jazz Beginner 1
6:15-7:00pm Jazz Beginner 2
7:15-8:00pm Lyrical 3
8:00-8:45pm Leaps & Turns 2/3 FULL
Studio D
5:30-6:15pm Tippy Toes 2 FULL
6:15-7:00pm Tippy Toes 3
Saturday
Studio A
9:30-10:15am Tippy Toes 2
10:15-11:00am Tippy Toes 3
11:00-11:30am Hippity Hop
Sunday
Studio A
2:00-2:30pm Hippity Hop
2:30-3:15pm Hip Hop 2
3:15-4:00pm Hip Hop 4
4:00-4:45pm Hip Hop 1
Studio B
4:30-5:15pm Ballet Beginner 1
5:15-6:00pm Ballet Beginner 1
6:00-6:45pm Jazz Beginner 1
6:45-7:15pm Teal Community FULL
Studio C
All Day Company Rehearsal FULL
Studio D
3:30-4:15pm Ballet Beginner/Advanced 3
4:15-5:00pm Leaps & Turns 2/3
5:00-9:00pm Company Rehearsal FULL