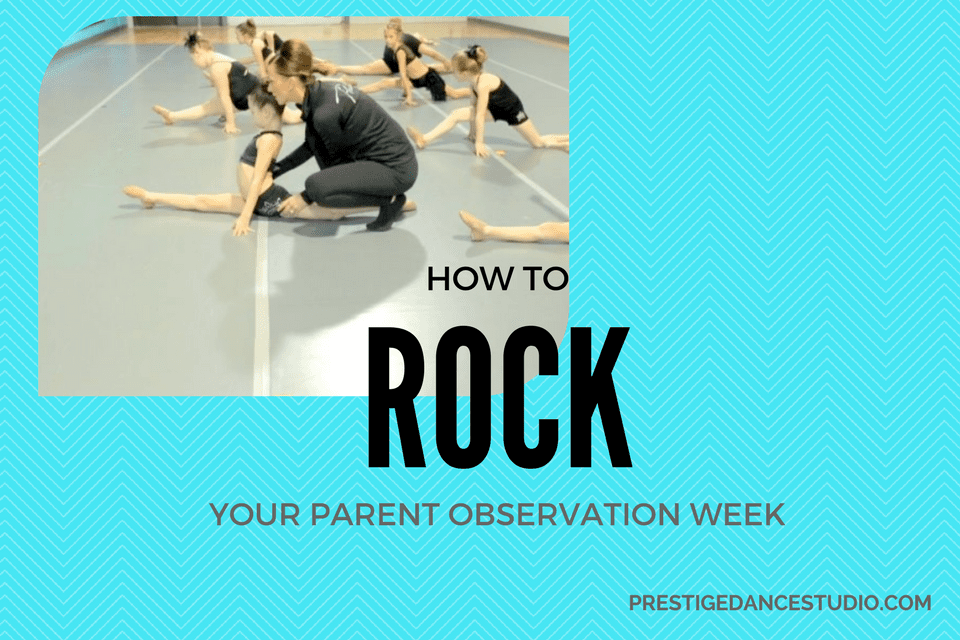 With Parent Observation Week right around the corner here at Prestige Dance Studio (October 16th-22nd), we thought we would spend a little time talking about what you can do to ensure a successful week.  I mean, not to put too much pressure on you parents out there but it really can influence what happens next in your dancer's career. Don't sweat it though! Prestige has your back. We want you to ROCK your Parent Observation Week, so here's how:
Talk about it before you arrive at class: Don't throw off your dancer! Kids like predictability and perform better when they know what is going to happen. Surprising your dancer at the studio can send them into a spiral of doom. Nerves and too much excitement aren't usually processed very well by a young dancer. Instead, a couple days before class just start talking about it. Mention that you will be in the room and that you get to see all the hard work they have been doing.
Be positive: This goes from the moment you start talking about Parent Viewing Week until you (eventually) stop talking about it. Your dancer wants nothing more than for you to be proud of him/her. So get excited for them to show you what they know.
Listen and watch: During class, keep your ears open for any important information from the teacher (sometimes information about upcoming events are discussed) and really watch your dancer! This is their moment, don't get distracted by your phone (unless it is to take that adorable picture of course!).
Have realistic expectations: If your dancer is not the "best" dancer in class, don't be disappointed! Instead, focus on if they are having fun and if they are learning new skills. Those things are much more important.
That is all it takes to ROCK your week! We can't wait to see you there!
Parent Observation Week: Monday, October 16th- Sunday, October 22nd.
Parents will be invited in for the last 10-15 minutes of class. Cell phones or tablets should be left in the lobby or put on silent. We encourage you to take photos of your dancer but ask that videos of class time not be shared on social media.